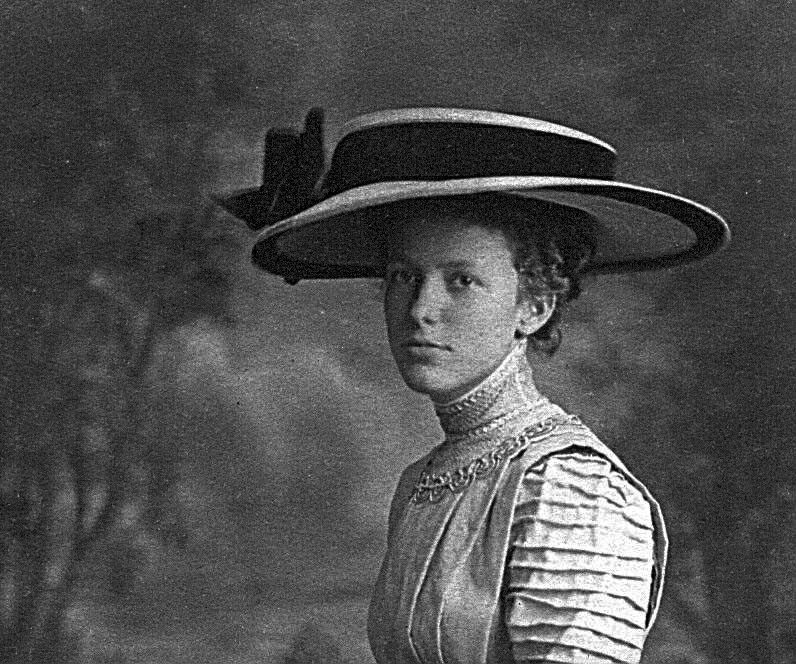 Muriel Wylie 'Capi' Blanchet
Of the hundreds of books about sailing and cruising along the Pacific coast of Canada, one of the most enduring bestsellers has been The Curve of Time by M. Wylie 'Capi' Blanchet. Originally published in 1961 when the author was 70 years old, this unlikely classic recalls Blanchet's 15 summers with her five home-schooled children aboard a 25 ft. by 61/2 ft. cedar launch named Caprice. As captain of the Caprice, Blanchet gained her nickname 'Capi'. For her memoir, she condensed her family's June-to-October adventures during the 1930s and 1940s into a series of sketches, as if they were one extended voyage.
Born as Muriel Liffiton in 1891 in Lachine, Quebec, Blanchet grew up in a well-to-do, High Anglican family as a tomboy who excelled in her studies. The middle of three sisters, she frequently upset her pious tutor by carrying mice in her pockets. Her father was often mysteriously absent on world travels, disappearing for a year at a time. She attended St. Paul's private school in Montreal where she repeatedly gained scholarly prizes between 1905 and 1908, competing with her sisters for school honours. The youngest, Doris, converted to Catholicism and later became Mother Superior of the Sacred Heart Convent in Vancouver. At age 18, instead of continuing to university, Muriel Liffiton inexplicably married Geoffrey Blanchet from Ottawa. The couple relocated to Sherbrooke, Quebec where he worked a bank manager, then in Toronto where he worked at the headquarters of the Bank of Commerce. Theirs was not a marriage made in heaven. Whereas he was highly emotional, she could be intensely pragmatic. After he fell ill in his early 40s and subsequently retired, the couple and their four children drove west in a Willys-Knight touring car, serendipitously discovering and buying a cottage at Curteis Point on Vancouver Island, near Sidney, B.C., in 1922. This strange and abandoned little house, which they dubbed Little House, had been designed by Samuel Maclure. It had a billiard table on the main floor and hadn't been occupied since 1914. It was a case of finders keepers, and Capi Blanchet kept it for the rest of her days.
In 1923 the family bought their 25-ft. gas boat, the Caprice, for $600, after it had been sunk at anchor by ice dislodged by the Brentwood ferry. The boat was only one-year-old but its engine had to be overhauled after it was raised to the surface. Blanchet's affinity for mechanics and boats was therefore born of necessity. The engine would remain in use for 20 years until 1942. One more child was born in B.C., then tragedy struck. Geoffrey Blanchet died, or disappeared, under very mysterious circumstances, in 1927, after he embarked on the Caprice from their home and stopped at nearby Knapp Island. He was never seen again. The boat was found by a Chinese gardener on the island. It was presumed that Blanchet's husband drowned while going for a swim, but this remains mere conjecture.
Each summer thereafter for 15 years, the indomitable 'Capi', with five children to raise and educate, rented her house to a family from Washington State and sought freedom along the coasts of Vancouver Island. With money collected from rent, and some earnings from her freelance writing, she explored the shorelines and islands in the Caprice, along with some or all of her children, preferring stiff-upper-lip stoicism to Bohemian looseness. Together they investigated old Indian settlements, canneries, marine stores, floating logging camps and traced the voyages of Captain George Vancouver, keeping a copy of his diary aboard. She also considered the claims of discovery made by the mariner Juan de Fuca. Her independent spirit led her to reject conventional notions of fashion for women. Her situation required she become adept at improvisation and repairs. "Engines were invented and reared by men," she wrote. "They are used to being sworn at, and just take advantage of you; if you are polite to them--you get absolutely nowhere." She enjoyed cleaning and taking apart her four-cylinder Kermath engine, grinding the valves herself, but she was also adept at playing the piano and violin.
Blanchet's adventures were retrospectively recorded in The Curve of Time, one of the bestselling books ever published in British Columbia. The unusual title is derived from a book that Blanchet had on board one summer called The Fourth Dimension, by Maeterlinck, in which time is considered as a curve. At the height of this curve, one can simultaneously view the past, present and future. It was popularized by publisher Gray Campbell of Sidney who released the first Canadian edition in 1968, under his Gray's Publishing imprint, for $1.95. It has since gone through at least 13 printings. The original version of The Curve of Time appeared in England in the late 1950s, published by Blackwoods in London, the company for which Blanchet had often written freelance articles. Few copies reached the West Coast of Canada. After World War II, the Caprice was sold for $700 to the owner of a Victoria boatyard. It was soon destroyed by a fire when it was in for repairs.
The ivy-covered home known as Little House was torn down in 1948, beset by dry rot, but it was soon replaced by a new building. Capi Blanchet lived alone at Curteis Point after her children grew up, resisting her doctor's advice to move. To combat her emphysema and the damp climate, she reportedly sat with her head inside her oil stove for 20 minutes each day. On September 30, 1961, she was found dead at her typewriter, having suffered a heart attack at age 70. A posthumous children's book appeared in 1983. Only one of her five children was alive in 2004.
Muriel's parents were Charles Albert Liffiton (1849 - 1927) and Carrie Jane Snetsinger (1863 -1917) of Montreal, Canada. After working as a clerk and a commercial traveler (traveling salesman), by 1879 Charles Liffiton was a partner in Bourgeau, Liffiton & Company, manufacturers and importers of coffees, spices, and mustard. Six years later in 1885, he was managing Acme Mills, coffees and spices wholesale, St. James Street, and he had married Carrie, the daughter of successful businessman and politician, John Snetsinger of Moulinette, Ontario, and owner of Acme Mills. Carrie Jane Snetsinger grew up in Moulinette, but was educated in Montreal, where Charles Liffiton was known as a yachtsman and a Winter sports athlete.
By the time Muriel was born on 2 May, 1891, her father was the owner of his own firm, C.A. Liffiton & Company operating Acme Mills at the St. Gabriel Locks, Seigneurs Street, Montreal. Acme Mills by this time was "the sole agent in Canada for Macurquhart's of London, dealing in wholesale coffees and spices, Worcestershire sauce, Heinrichs' Refined Family Gelatin, PortlandCement, West Kent Co.'s White Horse Brand, London Portland Cement Co.'s Lighthouse Brand." Charles Liffiton evidently traveled worldwide to advance his business interests. His daughters reported after being away for a considerable time, he turned up at the house one morning and said he had just returned from Egypt.
Muriel was the third of five children born to Charles and Carrie Jane Liffiton. As two of the five children died in infancy, Marguerite Irving Liffiton in 1886, and Gray Goodall Liffiton in 1895, Muriel grew up the middle child between two sisters. Violet Nicholas Liffiton, her elder sister, was born 10 December, 1887. Doris Liffiton, her younger sister, was born 26 June, 1896. In 1886, however, the Charles Liffiton family lived at 13 Lincoln Avenue in Montreal, while between 1891 and 1899, they resided at 252 Bishop. By 1903 the family had moved to Lachine, a town just west of Montreal on the St. Lawrence River. In 1903 they resided on Dixie Street, but by 1906,they had moved next to the river at 620 St. Joseph Street.
Muriel and her sisters were tutored at home prior to attending a private girl's school, St. Paul's, outside of Montreal. Both Violet and Muriel earned reputations as scholars at St. Paul's, but it was Muriel who compiled a set of inscribed leather bound Shakespeare volumes, each volume a prize for the highest marks in a subject. Considered a tomboy in her younger years, Muriel also made a name for herself as a rower. However, an early photograph of Muriel taken by the well-known Notman Studios emphasizes her more feminine side. Her stylish hat and suit imply a comfortable economic status. That is echoed in letters written by her older sister Violet, who in 1911 traveled to Europe with her Aunt Edith (Snetsinger) on the luxurious, but fated steamship Lusitania. From London Violet wrote her mother of being introduced to a Russian general at the Continental Hotel, of buying expensive perfume, and of viewing in her hotel room dresses from a French fashion house. Younger sister Doris Liffiton attended school at Oxford and the University of Rome.
Muriel's life probably changed considerably when at eighteen she married Geoffrey Orme Blanchet on 30 May, 1909. Blanchet, a banker and the brother of a classmate was twenty-three and described as very bright yet high strung. After residing in Sherbrooke where Blanchet was a bank manager, they moved to Toronto where he was in charge of foreign exchange at the Bank of Commerce headquarters. Their own family began with the birth of Elizabeth on 1 March, 1913. Frances was born on 21 July, 1914; Joan on 14 May, 1916; Peter on 5 March, 1919; and David on 22 May, 1924.
For health reasons Geoffrey Blanchet took early retirement, though family speculation has it that his poor health was linked to financial failings at the bank. Nevertheless, in 1922 Geoffrey and his family traveled west to Vancouver Island where they moved into an abandoned cottage on Curteis Point near Sidney. It was the "Little House" described in The Curve of Time. Although Muriel did have an uncle (Henry Arthur Liffiton) living in nearby Victoria, B.C., the reason Geoffrey and Muriel decided specifically to go to Vancouver is unknown. Her younger sister Doris taught school in Vancouver for about five years after taking vows with the Society of the Sacred Heart of Jesus.
Soon after the Blanchet family arrived in Vancouver, they purchased the Caprice for $600.00. The price was a good one as the one year old craft had recently been re-floated after a period of being submerged. Five years later, Geoffrey took the boat out camping and never returned. His campsite was located and the boat found, but he was presumed dead. Following Geoffrey's disappearance, Muriel raised and educated her children at home and wrote articles for magazines. In summer the family would rent out their house, and schooling for the children would continue with trips on the Caprice. As they sailed the coastal waters between Vancouver Island and the British Columbia mainland, they followed the log books and voyages of Captain Vancouver one of the first European visitors to that area. They saw wild animals, rich plant life,and explored deserted Indian villages, and then returned home to read in an encyclopedia about what they had seen.
Muriel raised her children, wrote, and traveled. In 1945, her son David built his mother a new bungalow overlooking the sea. When David was later hospitalized with polio, Muriel cared for his daughter while her mother Janet was working. In 1961, about seven hundred copies of The Curve of Time were printed, and Muriel was given a copy for herself and one for each of her children. On September 9 of that year, Muriel died while sitting at her typewriter working on a second book.
Elizabeth Houghton Blanchet (1913-1995), who was known as Betty, studied nursing prior to becoming a successful romance novelist under a pseudonym in England. She was married twice, first to J. Gilzean and later to J. Parry. Frances Irving Blanchet (1914 -1996) graduated from Vancouver General Hospital as a nurse and practiced that profession for thirty years. She married Ron King, a cattleman in Golden, British Columbia, and they raised their daughter Judith and son Ron King Jr. on a ranch beside the Columbia River. Daughter Joan Campbell Blanchet (1916 – ) studied art in Vancouver and New York City. After a marriage and a divorce she took up residence in the Queen Charlotte Islands 600 km north of Vancouver Island. Edith Iglauer relates a story about Joan buying an Indian dugout canoe for five dollars to paddle home from Vancouver. The journey took her five days total, and included a nine hour stint of constant paddling at night. Peter Hunton Blanchet (1919 - 1997), known as Tate, became a geological engineer and with his wife Eileen Grose raised a family of thirteen children. John David Hilary Blanchet (1924 - 1981)became an architect and with his wife Janet Patterson raised a daughter, Julia.